Strategic Solutions - Project Management
Project Management at ICON Strategic Solutions is a key part of our business and forms the cornerstone for many of the services we deliver for our clients.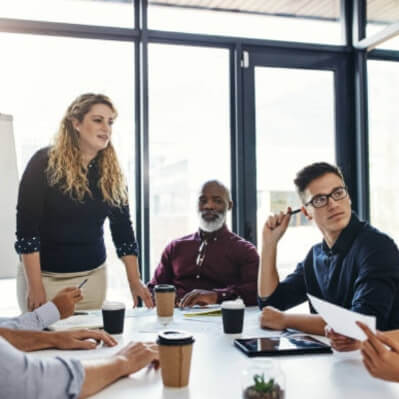 Our dedicated Project Managers will be integrated into our client´s team to ensure the correct execution of their trial portfolio by utilising their clinical project management expertise.

These project managers are given clinical oversight, work with a number of teams coordinating efforts across different functional areas, and are responsible for planning organisation and control within trials. They also manage the financial performance of their project to ensure it is delivered on time and within budget.

"I like working here because ICON cares about my consistent growth and skills development, such that ICON´s systems are innovatively structured to ensure this. There are also several therapeutic areas I am exposed to which all contribute to developing my clinical research skills and experience".
Author: Damilola, Project Manager, ICON Strategic Solutions, South Africa

"My role at ICON has been refreshing and a privilege! There is a genuine sense of collaboration and belonging within the teams which makes a real difference when facing challenges. This environment fosters and encourages being open, focusing on your strength and sharing lessons learnt no matter your role. There is not a dull moment and I am always learning something new."
Author: Ugo, Clinical Trial Manager ICON Strategic Solutions, UK

"I joined ICON Strategic Solutions in September 2021 and I enjoy working directly with the Sponsor! I was well trained and provide with ample resources to guide me in being successful in my role. Additionally, having supportive leadership from both sides reassuring".
Author: Regina, Project Manager, ICON Strategic Solutions, US
List #1
Roles in this area
A better career. A better world. A better you.
Our people are our greatest strength, are the core of our culture and the driving force behind our success. Throughout all levels of the company, our people have a drive to succeed and a passion that ensures what we do, we do well. We help you build exciting and rewarding careers, deliver results to help bring life-changing medicine and devices to market and maintain ICON's success as an industry leader. Read more