Hints & Tips for Graduates
Hints & Tips
Gain Experience
Take advantage of internships, externships, and co-op opportunities to build out your resume, and be prepared for the professional work environment.
Build your network
Reach out on LI and other platforms to make connections, introduce yourself to peers in the industry.
Utilize your Career services or Professors' networks to meet others with similar backgrounds, goals, or career paths.
Ask for advice and guidance from prior mentors
Continue building relationships within your organisation to be a more valued teammate.
Set Attainable Goals and Realistic Expectations
Break your goals down in to steps making them easier to manage and also easier to readjust should your interests or priorities change.
When you are going into a new industry, you may need to start in an entry-level job. If your goal is to be a senior leader, rising through the ranks and experiencing different roles will give you a better understanding of the team's responsibilities and functions.
Be on time
Plan to arrive approximately 15 minutes early to allow for any unexpected delays, review your resume/talking points, etc.
Make sure to allow time in your travel to the interview for weather, traffic, finding parking, and navigating an office complex if needed.
You also don't want to arrive too early putting pressure on the interviewer to rush a prior task
If something unavoidable happens making you late or unable to attend an interview make sure to communicate the situation with the interviewer as soon as possible.
Do your research
In preparation for an interview at a new company, visit their website, network with employees, do a google search to see when/if they've made the news; Understand their goals, mission & values, and how it aligns with your own.
Be prepared
You've done your research on the company, but make sure to bring a list of the questions you still have about the company's culture, performance metrics, etc. Make sure to ask questions about the next step in the interview process and timeline.
Bring a pen & paper: It's okay to take your own notes; an interview is a two-way interaction to determine the best possible candidate for the role and the best career for you.
Practice – look up potential interview questions and prepare answers. Also practice introducing yourself.
If you're interviewing in person, you can also bring at least 3 copies of your resume (and cover letter if you submitted one) for your interviewers even though they likely already have one.
Depending on the role you're applying for, if you have other items in a portfolio that are physical documents, you can bring those to share as well.
Be Professional & Respectful
Even if you're applying for a less than formal role, it is not recommended to refer to the interviewer as "dude." You can be professional while still being casual
Practice active listening. Give your full attention to the interviewer (focus on the one that is speaking if you're in a panel interview)
Have positive body language. Don't slouch or cross your arms at your chest; sit up straight and make good eye contact.
Always end a thank-you note as follow up after your interview. Even if after the interview, you have determined the role is not the right opportunity for you, communicate that with the interviewers and thank them for their time. This helps you develop communication skills and build a rapport with that organization should you ever want to be considered for another opportunity in the future.
Stand Out
Make sure that your resume highlights your skills most efficiently and that you can speak to the value your experience brings based on the requirements listed for the job you want.
Tailor your resume to the job you're seeking, include all relevant education and experience.
Be able to share about how your soft skills make you a strong choice as well as the qualifications required for the role.
Be intentional about your career goals and have a clear narrative as to why you're applying for that organisation/role.
Demonstrate your willingness to work and learn.
Include volunteer work at the bottom of your resume. This shares insights about your work ethic, helps you develop your soft skills, grows your network, and tells a story about your interests/passions.
Review & Revise
Revisit your goals periodically to make sure you're still on track with where your career focus is.
Make sure you are reviewing any resumes, cover letters, or applications for grammar, punctuation, spelling, typos, etc. Attention to detail is an important soft skill.
Be Brave
Beginning a new career or a new role can be intimidating, but you have prepared for this.
Don't be afraid to take risks and step out of your comfort zone to learn and grow.
This is an exciting industry!
Even if you have done something many times, you'll find that each time is different. So always remember, whether you've graduated from the Graduate Programme, or you've been in the industry for 10 years, there is always something new to learn!
5 reasons why you should consider a career in Clinical Research
Interested in starting a career in Clinical Research?
Moving into an unfamiliar industry can be a dauting prospect for many. We've compiled a blog explaining the reasons why to consider a career in Clinical Research.

To learn more click the link below.
Read More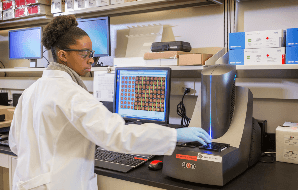 List #1
Roles in this area