Biostatistics & Statistical Programming at ICON
ICON's Global Biostatistics & Statistical Programming team continues to grow as part of ICON Operational Delivery, and we are looking for experienced Biostatisticians and Programmers to join this diverse and growing group. Our team is currently over 600 employees in 30+ countries around the globe!
The team are consistently focused on identifying and retaining industry leading talent – we seek to hire top performers and we will ensure that you are developed, empowered and proactively supported in your role. From executive levels down to our first line managers we actively encourage a people-first culture where work life balance is valued, collaboration is the norm, conference attendance is encouraged and staff recognition programs are valued and appreciated.
Using an enabling and engaging management style, we are able to ensure that our Biostatisticians and Programmers have time to benefit from the best in class training, development and mentoring initiatives we have in place at ICON. These priorities allow each individual to maintain and maximize their professional memberships and networks.
We are committed to optimizing the potential of each individual on the team. We will work with you to evolve your role and ensure your career potential is achieved!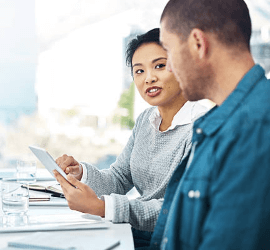 Take the next step in your career with ICON
We're looking for passionate, talented people to work with us and make an impact in Biostatistics. Could it be you?

Whether you're starting out, or you want to advance your career, browse our range of Biostatistics Jobs below for inspiration.
Sign up for job alerts

Experience: The SAS community
Summary
Vijayakumar discusses interacting with the SAS community and representing ICON at National and International conferences. I've worked for ICON for the last four years and am currently a Senior SAS Pr
Read more
View all